The Canadian AI Summit Presented by Framework Venture Partners and OneEleven that took place in Toronto on 11/09/2021 was a total success.
MarkiTech.AI team – with a focus on AI in healthcare- took part in this summit after a two-year hiatus of face-to-face meetings and several virtual meetings. This summit was a great opportunity to say hi to some of the partners, clients, and colleagues. 
In this very informative conference, we enjoyed interesting talks from a wide variety of speakers from a wide range of industries, including SalesChoice, Nugget.ai, Private AI, Agnostiq.ai, AI Partnerships Corporation, Borealis AI, Cadillac Fairview, Trust Science, Zelros, ODAIA, InvestHK, Arteria AI, BDC, Drop, Aggregate Intellect, Daisy Intelligence, and Google.
Although there were a broad variety of industries, they all have something in common. The deployment of AI.
Below are some key learnings that were presented at this conference.
1. Not Every Problem has an AI Solution
As Brian Keng, Research Director at Borealis AI said, AI should work together with humans in order to reach its full potential in the different industries. Also, Keng mentioned that the hardest part in building AI is not the technology itself, but the people when it comes to the business alignment, stakeholder management, project management, resource planning, and the most important- effective communication. Lastly, he commented that not every business problem has an AI solution so companies need to be careful about this pitfall. 
2. Why is AI Now Table Stakes to Remain Competitive?
In addition, Marian Pitel, Co-Founder of nugget.ai, answered a simple but still debatable question: Why AI?
The answer Marian gave was:
"AI is necessary to solve problems. We live in a very volatile environment that people need to adapt to and in order to do that we need data"
The AI model, although a very small component of the overall picture, is now being used as a competitive advantage to help companies
 improve productivity, reduce costs, manage risks and improve employee wellness in the Post Pandemic economy.
3. AI Helping Retail Clients Back to Brick and Mortar
Katia Saenko, Senior Vice President of Cadillac Fairview, also presented the new digital innovation strategy, using artificial intelligence in mobile, after observing the changing behaviour of shoppers. The goal for CF is to combine online with in-person shopping by using digital tools to make the purchase customer journey easier. CF had multiple AI&ML challenges to overcome such as inconsistent data, search diversity, multilingual shoppers, etc.
4. AI in Healthcare and Virtual Care is Here to Stay
Moreover, Helen Kontozopoulos, Co-founder and Chief Tech Evangelist of ODAIA, a company that provides digital healthcare solutions, presented a very interesting fact of how comfortable health care providers have gotten with virtual meetings since COVID-19. More specifically, 87% of HCPs want either all virtual or a mix of virtual and in-person meetings even after the pandemic ends.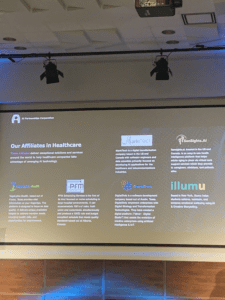 This fact proves how the pandemic has changed the old normal and how telehealth is here to stay.
These and many other learnings got presented at this conference.
The MarkiTech.AI team would like to give a special thanks to the AI Partnership (especially Dr. Tom Corr / CEO, and Gary Chen / CTO) team for the invitation and we look forward to many more.
Who are we at MarkiTech?
MarkiTech is on a mission to innovate healthcare one project at a time for payers, providers, and end-users. We have completed 40+ HIPAA-compliant projects in healthcare. We are experts in AI / Machine learning with 35+ engineers, data scientists & health care experts. We would like to offer FREE digital transformational consultancy via our Fractional CTO team of highly experienced individuals and understand your unique technology challenges and see if there is a potential fit.
Book a free consultation today to see how can help digitally transform your business at https://markitech.ca/our-services/
Follow us on LinkedIn at @Markitech for more updates.
#AiSummitTO #aiconference #ai #artificialintelligence #aihealthcare #summit #aisoftwarecompany #machinelearning #penetrationtesting #networkingevents