5G technology, the fifth generation of cellular wireless technology, has the potential to offer massive connection power and fast speeds that can help transform services across industries. Today, there are 220 million 5G subscriptions in the world, with over 1 billion people living in an area covered by 5G technology. However, by 2026 in the USA alone, 80% of all subscriptions will be 5G. With speed of take-up faster than 4G, 5G is posed to enable significant innovation in the healthcare sector. From accessing and analyzing real-time data to quicker diagnostics, 5G technology promises exponential benefits and use cases.
5G's technology specs surpass those of other wireless protocols
According to PWC's report, 5G in Healthcare, 5G's technical attributes are leaps ahead of its predecessor, 4G. Below, we can see how 5G compares to other wireless protocols.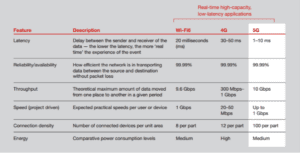 Source: PWC, 5G in Healthcare 
While the 5G possibilities are endless, we look at some 5G use cases in healthcare as highlighted in the AT&T report, 5G & Healthcare:The Dawn of 5G technology is here.
Telemedicine has been picking up pace over the last few years, with massive acceleration seen due to the pandemic.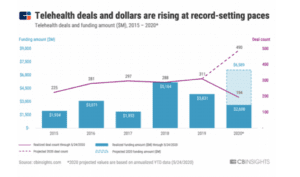 However, a network that enables near real-time, high quality video is essential for providing telemedicine effectively.  Augmenting a high speed 5G network to existing architecture, will ensure speed as well as exponential edge commuting. Together, this will ensure wider adoption and thus help improve access along with quality of care. This has immense potential for connecting patients in remote locations, where Fibre might not be a viable option. 
Remote Patient Monitoring (RPM):
RPM is a digital health technology tool that helps manage care through multiple points of contact with healthcare providers. By using IoT devices, healthcare providers can remotely monitor vitals, track medications, and transfer current data to help staff make faster, more informed decisions. With 5G, better connections can be enabled on mobile devices which can increase data transfer capacity utilizing a wider bandwidth. Furthermore, it can support larger blocks of data transference assisting healthcare workers to provide better quality remote care. Thus, 5G can have a massive impact in healthcare in areas of continuous real-time monitoring, assisted living for people with chronic conditions, active aging and hospital-at-home.
Data in healthcare is used for predictive and prescriptive analytics, along with determining diagnosis and treatment plans. Therefore, given the plethora of healthcare data, transfer speeds are crucial. With 5G's low latency feature, multi-access edge computing will quickly process data at the edge of the network. By incorporating 5G technology, smartphones, mobile applications, devices, sensors, and systems can fuel big data analytics. Data can also then be distributed at multiple points of care. Thus, this will lead to an acceleration of innovations in areas of early diagnosis, hospitalization logistics, intervention design and remote surgical procedures. Overall, data analytics, supported by 5G, will encourage greater transparency and enhanced patient engagement. 
Healthcare ecosystem decentralization
Healthcare is trending towards delivering 'closer to the patient' care, given the higher costs of healthcare and growing consumerism. 5G technology can support this decentralization of the healthcare model by providing enhanced video-streaming with lower latency and faster access to electronic health records. It can further improve remote online consultations, enable efficient data transfers and allow healthcare professionals to collaborate across regions.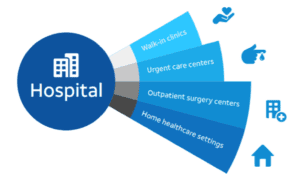 Source: AT&T, 5G & Healthcare: Dawn of the technology is here
Going forward…
Many companies such as AT&T and Ericsson have set-up 5G labs that allow companies to explore the platform and develop use cases. Utilizing these innovation studios, health enterprises can analyze the scalability and cost-effectiveness of various use cases. This can help them achieve desirable health outcomes and improve accessibility. 
However, despite the optimism surrounding 5G technology, there are few areas that require more development. From a policy perspective, it is essential to get the spectrum allocation in a way that cost does not discourage innovation. Furthermore, planning permissions are likely to slow-down roll-out, where it falls behind consumer demand. Lastly, it is essential for organizations developing these healthcare use cases to effectively translate their findings into actionable outcomes. 
Undoubtedly, 5G technology has massive scope in the healthcare sector. Early adoption and development of scalable use cases will be the driving factors in bridging care gaps efficiently and enhancing the continuum of care.
Who are we at MarkiTech?
MarkiTech is a North American based digital transformation company focused on healthcare innovations, featuring various AI solutions in the world of digital health. We provide services such as development of custom AI applications & prototypes, innovative end-to-end solutions leveraging AI/5G/Cloud/IoT, creative UI/UX designs, iOS/Android mobile/web & wearable app development, as well as staff augmentation tools and training programs.
Book a free consultation today to see how can help digitally transform your business at https://markitech.ca/our-services/
Follow us on LinkedIn at @Markitech for more updates.
Contributor: Mariam Javed