Mobile applications have been hailed as game-changers for organizations across the globe. If done right, these applications can allow businesses to reap a multitude of rewards, such reach a wider customer base, improve their visibility, enhance their customer service offerings, better market their products and collect and interpret data to help build an effective operational strategy.  
Statistica reports that 218 billion mobile app downloads took place in 2020 alone, a remarkable 55% increase from 2014.It is no surprise that worldwide mobile app revenues, consequently, have seen immense growth and are projected to reach over USD 935.2 billion by 2023!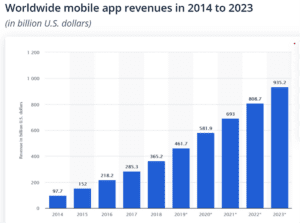 Source: Statistica
Despite their promising revenue generation prospects, mobile apps in themselves do not necessarily guarantee business growth and entrepreneurial success. It is crucial for enterprises to extensively research different app development companies in their quest to find the one which is the 'right fit' for them. This ideal app company will be one that can align itself with your organization's business objectives, is an innovative leader in their industry or niche and champions an open two-way communication policy. 
Below, we address some of the key parameters for evaluating mobile app companies to help organizations reap the maximum benefits.
Check The Portfolio
Most app development companies have a separate section on their website specially dedicated to the portfolio of products they have created and the client companies they have served. Looking at this, you can evaluate their domain skill, UI/UX expertise and app building experience, while gauging familiarity with your industry. Below is an example of Markitech's portfolio. Markitech is a digital transformation company developing artificial intelligence (AI) applications for the healthcare and telecommunications industries.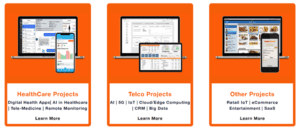 To learn more about the projects in their portfolio, click here. 
Get Feedback from Past Clients
Furthermore, it is advisable to learn about the app developer's past and current clients. Most companies have a list of clients readily available on their websites followed often by their testimonials. Go through these testimonials and research their clients to get an idea about the company's key strengths and values. You can also go a step ahead and reach out to their clients to get a better sense of their work ethics and app development proficiency. 
For instance, on Markitech's website you can see that they have established a 94% retention of clients from Fortune 500 enterprises to Silicon Valley start-ups. Below are some of the testimonials they have received from satisfied clients.
Price Competitiveness and Cost-Efficiency
Once you have shortlisted a few companies based on their portfolio and positive client feedback, you can get in touch with them to get a glimpse of their price structure and competitiveness.  As most enterprises work under financial limitations, it is imperative that an app development company's offering is within your budget and gives you the best values for your money. Whereas one usually associates higher price with higher quality products, this is not necessarily the case every time. Where larger experienced app developers offer costly, high quality apps, there are long-standing companies like Markitech that offer quality apps at affordable rates for the healthcare sector, given their lower overhead costs, lower time to market and a flexible team structure.
Valuing Open Communication 
Although you might be hiring a mobile app development company for a particular project, your relationship with them will go far beyond the project completion timelines, especially for any future support or maintenance. Thus, it is crucial to engage with a company that values client relationships and open communication on projects requirements and other deliverables. 
Markitech places great emphasis on nurturing sustainable partnerships and building positive client experiences. Based on their clients' vision and strategy, Markitech defines the optimal and customized solutions and platforms for developing and  launching laser-focused applications to achieve your business targets. They partner with you to develop a dedicated digital transformation strategy for your specific challenges. Employing a proactive consulting process, their team drafts your road map, setting up milestones to ensure thaæt you are leveraging customer insights and delivering on your business' KPIs.
User Experience Design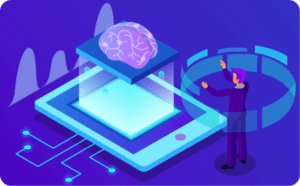 It comes as no surprise that a well-designed app is more likely to thrive in the market. Therefore, it is essential to consider a mobile app development company that offers innovative designs that can cater to your evolving business needs. A highly skilled team of UI/UX designers that can create a powerful user experience.
Markitech's skilled app designers collaborate with clients to design, develop, test, and implement optimized IPs and accelerators by providing cutting edge products and solutions. They create all components that mesh seamlessly together to deliver a commercially successful product.
Holistic Approach to App Development
Choose an app development company that assures the effective management of the entire mobile app development cycle. This includes having the ability to efficiently work on the platform of your preference and/or has experience in developing cross-platform applications. Furthermore, the company must regularly update the client on their app development progress, and if they are experiencing any roadblocks. 
Markitech is proud to adopt a holistic approach to software development life cycle, applying agile, and lean methodologies, maximizing business impact and growth through a design thinking approach. They possess all necessary capabilities to produce a full-fledged, intuitive smartphone, smartwatch and/or web solution that are to be launched for iOS, Android, React JS, Angular JS, Ruby, Node, .Net, Rest API, Python & MSTR.
Confidentiality & Data Security
As an entrepreneur, it is crucial to protect your business idea to fully benefit from the first-mover advantage. Therefore, it is essential that the app development company you eventually pick has safeguards in place to ensure 100% confidentiality of your business idea. Inability to do so can result in multiple, low quality replicas populating app marketplaces before the original gets the chance. One way to go about this is to get the mobile app developer to sign a non-disclosure agreement ensuring complete confidentiality of the app idea.
Secondly, the app developer needs to ensure that necessary safety protocols are effectively in place to ensure secure deployment and data storage. These can include incorporating a multi-layered security solution, using device and user authentication. 
As a leading healthcare solutions provider, Markitech ensures that their products meet all the necessary privacy and security standards to provide smart telehealth solutions to patients, caretakers, and healthcare organizations. 
Quality Assurance & Testing
Testing the final product to ensure that it meets the adequate quality standards is integral for the success of any mobile application. Therefore, it is essential that the mobile app developer of your choice places great emphasis on testing and follows the latest manual and automation quality assurance practices. If a developer is rushing through this ever-important testing process, it should be a huge red flag for you as a prospective client organization. An app developer company with high testing and quality standards is likely to perform multiple tests over time and, in the event of errors or bugs, would address and resolve them quickly and effectively. 
Markitech provides  a robust, adaptable, and effective multi-tier product-testing framework to ensure that the final product delivers accurate results, minimizing operational costs.
App Launch & Maintenance
An app launch can be a tedious task. Before an app is submitted to an app store, it is essential to review the store's guidelines and ascertain whether your application or platform offering meets their standards. A mobile app developer's ample experience in launching apps is critical. Even when an app is successfully launched, you will consistently need to partner with the app developing company to fix bugs and provide routine support over time. Therefore, developer companies that offer robust post app development support are the ones to search for. 
Like all the other parameters, Markitech excels at this crucial last stage. They enable you to take the most critical steps in launching your products and solutions by closely monitoring, optimizing and ensuring long term success.
Summing it up
Choosing the right mobile application company can be a rightfully daunting task, yet it is not insurmountable. With extensive research of the company's portfolio and reaching out to their past clients you can get a good feel of their app development skill, innovativeness, price competitiveness and overall client communication policy. At the end of the day, there is no one size fits all model. Use your unique business needs and challenges to guide you towards finding the right app development partner to propel you towards the fulfilment of your company goals and objectives. 
If you feel that Markitech sounds like the mobile app development partner for you, book a free consultation today at https://markitech.ca/our-services/
Follow us on LinkedIn at @Markitech for more updates.
Contributor: Mariam Javed