Since we are now a few weeks into the new year, this is a good time to assess the latest trends in the tech world and their adoption in the market. Undoubtedly one of the biggest and seemingly unstoppable players in the emerging technologies arena is AI. The infographic below shows the adoption of AI in Canada by various industries such as telcos, finance and healthcare for example.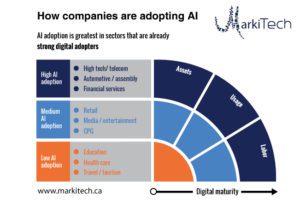 Do you agree? In your opinion is AI the next best thing? How can companies benefit from adoption of AI?
let us know your thoughts, we would love to hear from you.