AI has revolutionized healthcare and opened avenues for further expanding access to care, enhancing care quality and, most importantly, enhancing the continuum of care. A key player in North America's digital health revolution, Markitech develops revolutionary solutions such as SenSights.ai, vEYEtals and YourDoctors.Online. Below, we discuss the growing role of AI in healthcare and highlight some of the biggest digital health trends.
AI in HealthCare:
In the words of KPMG Healthcare Technology Leader, Vince Vickers, "AI is definitely a top three thought process for all of our major stakeholders in healthcare. And I couldn't have said that even as little as three years ago".
This optimism is illustrated in KPMG's latest report, which surveyed respondents in healthcare companies with over $100 million in revenue. The below findings demonstrate that stakeholders in the healthcare sector are confident about future AI adoption.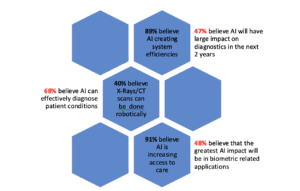 According to Bill Bordan, Director, Healthcare & Life Sciences Comm., KPMG US, business leaders are prioritizing their AI investments on telemedicine (38%), robotic tasks (37%) and the delivery of patient care (36%) over the next two years.
Based on the confidence exuded by healthcare professionals and industry experts in AI, we detail key health trends for 2021. The trends were handpicked from the CVS Health Trends Report.
1. Disease Predicting AI Engines:
According to Daniel Knecht, VP Clinical Product, big data already helps make treatment more personal and effective. Now, big data is moving ahead to help providers spot disease risk before patients become aware of it. Accordingly, data scientists have developed models to sift through data and reliably predict who have increased risks for a poor health episode.
After these smart engines detect risk, the next step is to engage with patients and providers via email, a text, or a phone call.
For the patient, communication can be from a care manager or a conversation at the pharmacy. The purpose is to create awareness and provide actionable next steps.
For the provider, notifications can assist them to practice the best evidence-based medicine. As providers care for several patients at a time, these algorithms can sort through the noise and help suggest some clinically validated next steps.
The greatest value these data-driven engines deliver is that they are constantly running, refreshing and ingesting data. The engines are consistently updating their actions and recommendations for entire patient populations. Furthermore, they help immensely with the problem of clinical inertias. This is especially important when patients cannot seeing physicians as frequently as they should.
2. Tailor Care to Older Patients
The latest trends in healthcare point towards an elder-inclusive framework. "We're heading into a new era for the care of older Americans," says Christopher Ciano, President of Medicare for Aetna. This shift is driven by a multitude of factors.
An ageing population is considerably more susceptible to chronic conditions, requiring more hospital visits and admissions. Therefore, it is not surprising that the healthcare sector is striving to address this changing dynamic.
One promising effort from CVS Health is Age-Friendly Health Systems, an initiative led by the Institute for Healthcare Improvement. As per Angela Patterson, Chief Nurse Practitioner Officer of MinuteClinic and VP of CVS Health, this initiative maps ways to make a difference for patients 65 plus.
Under this, practitioners are encouraged to adopt a range of best practices that align with a patient review framework known as the "4Ms":
3. Virtual care goes mainstream:
By September 2020, over 20% of all medical visits in the US have been delivered via telemedicine. This transition represents approximately $30 billion of medical services. Besides the focus on tele-visits, the pandemic also contributed to the wider adoption of apps and wearables.
According to Adam Pellegrini, who currently develops virtual care programs at CVS Health, "We need to offer care in the ways that people are looking to receive it—through phones, through connected devices, through asynchronous conversations and, of course, through the tele-health visit."
Below, we look at some statistics that point towards the increased acceptance and deployment of virtual care: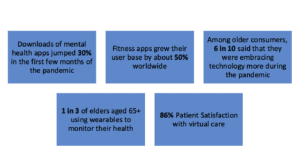 While these numbers paint a rosy picture of virtual care adoption, the road to widespread implementation is marked with considerable challenges. One key issue is integration. Currently, over 500 hospitals have some way of handling data from wearable devices. However, that data usually stays on the patient's phone. A 2019 survey of healthcare practitioners found that only 5% used data from their patients' devices citing compatibility issues with EHRs.
Thus, for digital health to truly reap results, it's essential that patient-generated data and home devices and other tele-health touch points can be easily integrated into EHRs. Moreover, a one-stop approach is productive in this case, wherein patients can use smart platforms to track their health, predict health outcomes and notify health professionals to follow up. Sensights.AI is one such platform.
Who are we at Markitech:
Markitech is a North American based digital transformation company focused on healthcare innovations. We have developed various AI solutions in the world of digital health. We also provide services such as development of custom AI applications and prototypes and develop end-to-end solutions leveraging AI/5G/Cloud/IoT and UI/UX designs.
Book a free consultation today to see how we can help digitally transform your business at https://markitech.ca/our-services/
Follow us on LinkedIn at @Markitech for more updates.
Contributor: Mariam Javed