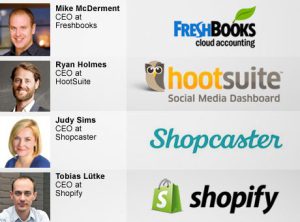 BlackBerry's implosion has laid the foundation for the exciting and dynamic tech scene we see today. It seems that Canadian's have taken this last shakeup as a matter of ego and hurt the Canadian pride – and they are doings something about it. Today, Shopify, HootSuite, Freshbooks are some of the ideas who have caught fire in the Tech world and being recognized even in the heart of US (recently down in Boston @ HBS).
These growing number of new venture capital funds in Canada, particularly start-ups, are now fueling the growth.

 
So the question we all have in mind is, what 2015 will bring? Here are five predictions:
1. M2M / IOT, Health care tech, Cloud and Big Data will explode.
 I predict that these four key areas will be the engine of growth for technology start-ups in Canada. With the expected productivity gains due to these technologies for small 
business
 and enterprise segment – there will be a major investment and rush to invest and engage early on with these 4 key trends in some form shape or another. B2B is back in fashion.
2. Blackberry finally will stabilize and Apple / IBM partnership will start impacting Enterprise. 
There was a time when it was unclear if BlackBerry would continue to exist or be sold off for parts. Yet with a renewed focus on the "power" enterprise users in healthcare, government, and a few other sectors, BlackBerry has begun to stabilize. Finally this year Blackberry will stabilize but will then start getting head winds from the IBM / Apple Enterprise partnership impacting applications on smartphone. 
3. Venture capital activity will be at a record high. Expect to see major investment activity across Canada, driven by both domestic investors with fresh money from the VCAP program, as well as continued heavy investment from U.S. investors. Strength builds strength: the new crop of standalone tech companies and a successful IPO will show investors that we're capable of building tech giants on Canadian soil.
4. The York-Toronto-Waterloo area will dominate. While Canada has several exciting tech hubs, I believe the Toronto-Waterloo area will continue its reign as the top startup ecosystem. Expect to see two to three exciting break-through companies emerge from this region.
5. Canadian entrepreneurs will play an important role in emerging technologies. Across the global tech scene, M2M / IOT, Virtual Reality (VR) and Bitcoin represent two core platforms of the future. M2M is growing exponentially. VR is quickly expanding from its role in gaming into other key areas like healthcare and education, while a killer app for Bitcoin should also be emerging (probably in international money transfers or remittances). 
The future of Canadian tech in 2015 looks very bright.
Contributed by Nauman Jaffar in Dec 2014
https://ca.linkedin.com/in/
naumanjaffar; 
www.markitech.blogspot.ca