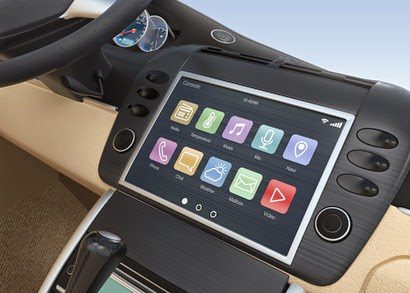 Ford is making a change to its current infotainment system to make the user experience more like that of using one of today's tablets or smartphones. In order to make that change a reality, Ford has dumped Microsoft, its software provider and has instead decided to use Blackberry's QNX operating system for its new Sync 3 infotainment system.
The Ford Sync system is designed to allow drivers to listen to radio, music, make pone calls, control the car's climate control system either through touch or the use of voice commands.
Now that Ford wants to have a user experience similar to that of using a tablet or smartphone there will now be an ability to shrink or expand the display using pinch-to-zoom finger gestures on the touch screen.
Other enhancements are a much improved understanding of human voice commands in that the system will now understand the number "thirteen seventy five" as opposed to the driver having to say "one-three-seven-five". Another key improvement will be better integration with the Apple iPhone, thus giving users access to Siri by using voice commands.
Ford's Sync 3 will be available in 2015 on Model 2016 vehicles.
By: Richard B.