First Step in New Tech-Enabled Workplaces
With the pandemic raging on for over a year, businesses have begun strategizing to incorporate safe return to work practices. According to a recent report, two thirds of workers in the US are reluctant to return to on-sight office spaces despite the advantages of collaboration and social connection (CB Insights). To assuage these fears, enterprises are increasingly adopting AI driven solutions in areas of pre-entry wellness checks, autonomous cleaning and sanitizing of workspaces as well as cyber security. This, ultimately, will help to insure a safe and effective return to work.
CBI Insights has developed an insightful roadmap below, highlighting employees' new tech-enabled journey. Additionally, their roadmap hints at what future office workspaces would look like. This includes a set of approaches that enterprises deploy to minimize health and safety risks for employees through various technology solutions.
Pre-entry wellness checks
Touch-less entry
Social distancing sensors
Remote collaboration tools
Autonomous cleaning solutions
Low-tech and voice enabled technology
Employee wellness, communication, and engagement tools
Cyber-security and at-home network security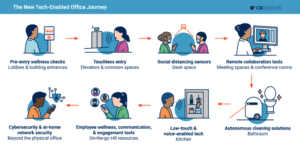 Source: CB Insights
Putting Pre-entry Wellness Checks at the forefront of safe return to work
Lobbies and building entrances are the first point of contact for visitors and employees. Thus, they will require a complete procedural overhaul. As such, many companies are already piloting applications that screen employees before they arrive at work. Safe2Work is one such risk prevention platform that assists to contain the spread of the coronavirus and safeguard organizations from infection. It utilizes non-proprietary consumer devices to provide access to both automated real-time infection screening and 24/7 monitoring of the key biometrics. Based on the results, Safe2Work advises whether an employee can safely return to work. It will also advise whether an employee should quarantine or needs to contact a health provider.
Source: Safe2Work.ai
Other solutions are proposing the use of immunity passports, which ties official COVID-19 test results to a user's digital identity.
Moreover, contactless wellness checks will likely be deployed at office entry-points too. For this purpose, companies can not only use contactless thermometers but also apps such as vEYEtals. This unique smartphone app uses tablet or smartphone cameras in 'selfie' mode to detect the area just beneath the eyes within 30 seconds. With its proprietary AI, vEYEtals can detect with high accuracy the Heart Rate (HR), Heart Rate Variability (HRV), Oxygen Saturation (O2), Respiratory Rate and Mental Stress Levels of an individual. By taking advantage of cloud computing, the app is designed to be lightweight and easily integratabtle within other platforms.
Ultimately, deploying an app like Veyetals at entry kiosks can ensure that visitors and employees can safely enter the workplace.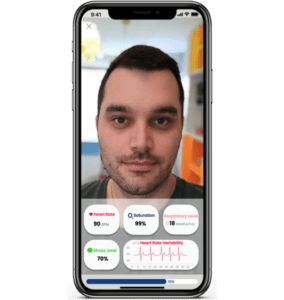 Source: Veyetals.com
Why these technological interventions are necessary
In the US alone, poor employee health costs organizations a whopping $530 billion, annually. Interestingly, a significant chunk of this is mitigated through the effective management of illness or virus transmission. All in all, constant and consistent collection and monitoring of employee health data allows business to deploy targeted initiatives to improve employee health and raise productivity.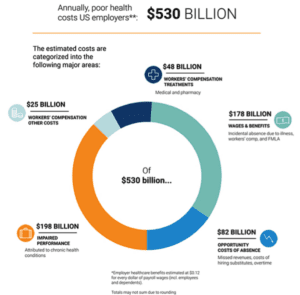 Source: Wellable
Benefits of deploying pre-entry checks for employers:
Employing a meticulous tech-driven approach to workplace screening, businesses can realize the following benefits:
In case an employee fails the pre-entry screening before leaving for work, they can avoid the inconvenience of coming to work and later being turned away.
Having all the relevant screening and safety protocols in place allows employees to feel secure in their office environment, building their trust in the employer as well.
Managers can also access this employee health information on their dashboard to better plan for absences and adjust floor and seating plans, to ensure work safety and efficiency.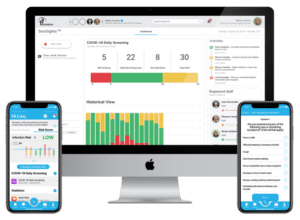 Source: Safe2work.ai
With vaccines distribution underway, COVID-19 will eventually cease to be the top health concern for employers and employees alike. With that, the use of temperature checks and health surveys will dimmish. Yet the use of rich biometric data is likely to stay, which will allow employers to plan for flu seasons and trigger alerts in case multiple employees come in with elevated temperatures. Undoubtedly, there are barriers to adoption given the privacy concerns. However, with effective cybersecurity policies and procedures in place, the benefits of adopting these wellness technologies will outweigh the risks and the challenges in the future.
Who are We at Markitech?
A niche IT solutions and professional services provider, Markitech is a digital transformation company based in the US and Canada. Our software engineers and data scientists focusing on developing artificial intelligence (AI) applications for the healthcare and telecommunications industries.
We provide services such as custom application development and prototypes, innovative end-to-end solutions leveraging AI/5G/Cloud/IoT, creative UI/UX designs, iOS/Android mobile and web and wearable app development. We also offer staff augmentation tools and training programs. Markitech has completed several revolutionary solutions including SenSights.ai, Safe2work.ai, vEYEtals, YourDoctors.Online, Signia and more.
Book a free consultation today to see how can help digitally transform your business at https://markitech.ca/our-services/
Follow us on LinkedIn at @Markitech for more updates.
Contributor: Mariam Javed