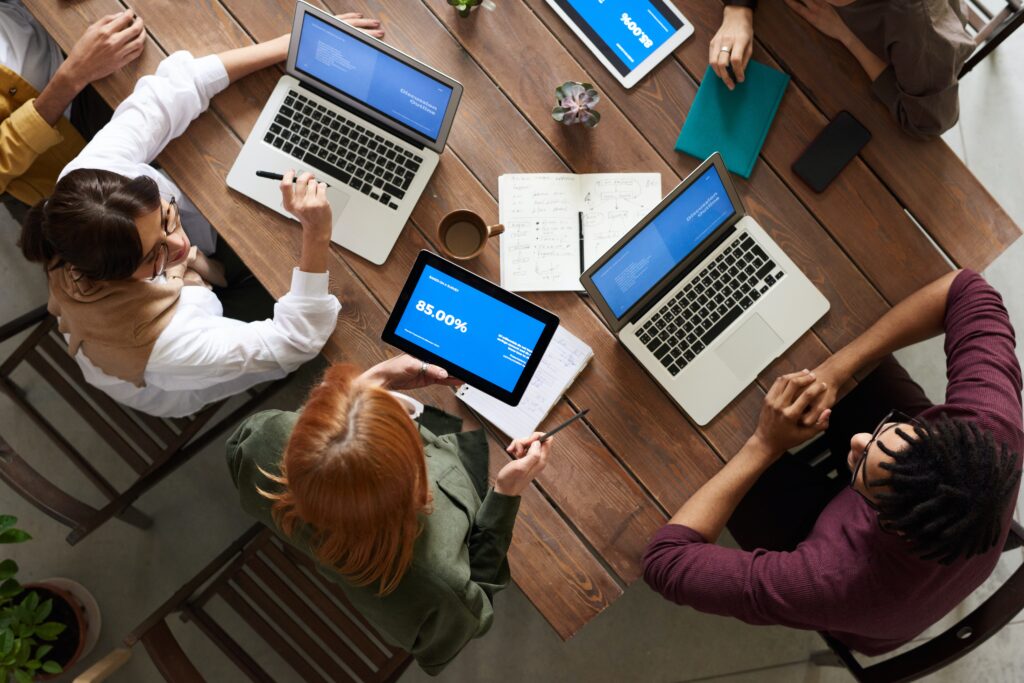 Today, more and more organizations have implemented AI-powered applications for the many benefits it provides, such as improved productivity, increased ROI, and it's also useful when hiring employees. AI is also commonly used for web application and development too. It simplifies the web development process and assists developers by providing suggestions throughout the process.
Businesses must now decide whether they should buy or build AI solutions and AI applications in product development. They can either develop their own AI solutions in-house or purchase AI tools. It's an important decision to make as the incorrect one can result in a loss of money and time.
In this article, we're going to summarize the pros and cons of both buying and building AI solutions, as well as discuss two options to have AI software built.
The Pros and Cons of Developing AI Solutions
Developing AI solutions in-house can be very beneficial if you have the right experts on hand. There are a few cons too that may influence whether you choose this option.
Let's take a look at the pros listed below:
       

You can completely customize the solution and tailor it to your specific needs.

       

You will have IP ownership.

       

The AI solution will be compatible with your current infrastructure and systems.
Here are just two of the cons associated with developing AI solutions:
       

You will have to use your own resources and commit a certain amount of time to the project.

       

You may have a lack of training data.
The Pros and Cons of Buying AI Solutions
Buying AI solutions for web application and development is a great option too. It is especially beneficial to those companies that don't have the required internal expertise.
We've listed the pros here:
       

It is cost-effective with seamless AI pricing.

       

You won't need to use up your valuable resources which makes deployment and implementation simple.

       

You're guaranteed quality assurance when an external party is involved.

       

The AI solution will have built-in data security too.
There are also a few cons as well, which we've summarized below:
       

 Risk a lack of compatibility with your current systems and infrastructure.

       

The solution may not be as customizable as you desire.
Options to Have AI Software Built
When it comes to having AI software built for product and web development, you have a few options available. We'll be discussing the two main options; staff augmentation and outsource software engineering.
First, let's touch on staff augmentation. This is when temporary workers or IT specialists are brought in to fill a short-term job position. It is often implemented by many organizations during an IT project. Your company may not have the necessary resources to build AI software and solutions, which means that a specialist must be brought in for a certain period of time.
Organizations can also outsource software engineering. This is also a great way to fill an internal gap and support a company's growth. A third party is outsourced to complete an AI project and build a software solution.
Conclusion
It is clear to see that both buying and building AI solutions have their unique pros and cons. If you're a smaller organization or one lacking in those important IT skills, then outsourcing your projects to have then built is exactly what you need. At Markitech we build top-notch AI software and solutions that will greatly improve your business's growth and productivity. check us out in the next excerpt.
Who are we at Markitech AI
?
At MarkiTech.AI,  we offer our constant monitoring software and hardware for seniors (
Sensights Care
)  as well as constant vitals monitoring through our AI vital detection software that can measure your vitals through the smartphone (
Veyetals
). These, along with other projects that are developed by our company, can help your organization make the switch to proactive healthcare without all the extra labor and cost that is involved. With our over 40+ certified engineers, CTO and biomedical background, developing custom solutions and Web Application Developments to monitor and track patient progress is our expertise.
We would like to offer
FREE digital transformational consultancy
via our Fractional CTO team of highly experienced individuals and understand your unique technology challenges and see if there is a potential fit.
Book a free consultation today to see how can help digitally transform your business at
https://markitech.ca/our-services/
Follow us on LinkedIn at
@MarkiTech
for more updates.