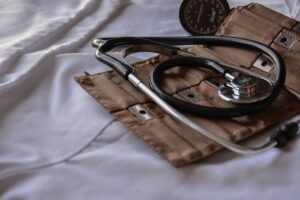 We are rapidly moving from a reactive to a proactive system in the world of healthcare. A greater understanding of the mechanisms and causes of Chronic Diseases and radical technological advancements can shape the future of medicine. 
Reactive healthcare waits until symptoms are found, crises occur, and the prognosis is poor. On the other hand, Proactive healthcare uses consumer innovations such as wearables, mobile apps, and artificial intelligence to enable early diagnosis. 
The result of reactive healthcare is patients to be left in the dark and to a more passive role, unaware of which diseases they might be at risk of, unable to measure what's happening in their bodies, and waiting for things to worsen before taking action. 
By providing proactive healthcare to patients and clinicians, they can have earlier and easier access to critical health information that can be used to manage conditions before symptoms appear and the prognosis becomes poor. 
Proactive care teams don't wait until a patient calls them to share sensitive data. They check-in and request a datasheet, or at minimum, a text update. Next-generation firmware enables them to collect symptom descriptions or vital sign readings to identify warnings that may require a check-up such as the Veyetals App. If patients are diagnosed or placed on the radar for a developing condition, they receive sensitive data and management tactics in order to become care plan partners.
Home Health AI's role
Interacting regularly with patients, observing behavioral changes and emotional instability while filling medications, and scheduling follow-ups can significantly help prevent critical issues. By implementing Artificial Intelligence in medical settings, proactive care becomes more accessible to all, as the constant monitoring can be time-consuming if it is conducted through manual labor. 
At MarkiTech.AI,  we offer our constant monitoring software and hardware for seniors (Sensights Care)  as well as constant vitals monitoring through our AI vital detection software that can measure your vitals through the smartphone (Veyetals). These, along with other projects that are developed by our company, can help your organization make the switch to proactive healthcare without all the extra labor and cost that is involved. With our over 40 certified engineers, CTOs and biomedical background, developing custom solutions and Web Application Developments to monitor and track patient progress is our expertise.
We would like to offer FREE digital transformational consultancy via our Fractional CTO team of highly experienced individuals and understand your unique technology challenges and see if there is a potential fit.
Book a free consultation today to see how can help digitally transform your business at https://markitech.ca/our-services/
Follow us on LinkedIn at @MarkiTech for more updates.
Written by Aamina Anjum