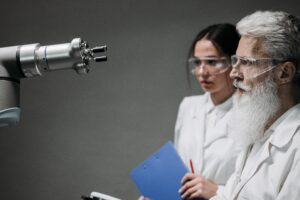 Population health and precision medicine are revolutionizing how we think about healthcare. Yet, at their core, they seem to pull in opposing directions. Fault Lines in the COVID-19 debate largely centered around these two perspectives. One side arguing for mass population interventions and the other for targeted measures aimed only at the most vulnerable.
Only artificial intelligence in healthcare seems able to bridge the gap. AI development companies in health are working hard on new technologies that take advantage of the intersections between these medical approaches, potentially leading to better outcomes for everyone.
Below we explore AI innovation.
Population Health and Precision Medicine: What's the difference?
There's a golden rule in medicine: population interventions have little benefit to the individual.
That's because most people who develop a serious illness originally had a low risk of doing so. So, the majority of participants in a population-wide campaign to reduce heart attacks will never end up having one. Meanwhile, precision medicine, dedicated to finding the optimal treatment for specific patients, rarely benefits the wider public.
But let's be even more specific:
Population health is an approach that aims to improve physical and mental health outcomes, promote wellbeing and reduce health inequalities across an entire population.
Precision medicine is an emerging approach for disease treatment and prevention that considers individual variability in genes, environment, and lifestyle.
With only a limited pool of resources, choosing the correct approach is critical.
Squaring the Circle: How AI Bridges the Gap
At first glance, integrating the two approaches is impossible. They're the polar opposite: big vs. small. The best AI companies in healthcare might disagree, however.
As Dr. Muin Khoury and Dr. Sandro Galeo remarked, "Pitting the health of individuals against the health of populations risks widening any unnecessary divide between medicine and public health."
The solution is to combine the approaches.
Indeed, both population health and precision medicine harness the power of big data to determine an optimal outcome. Therefore, AI analytics presents an intersection of the two disciplines.
That's where AI comes in. It adds an intelligence layer to these vast data sets, helping to identify patterns and correlations. When taken in its totality, specifics learned about individuals can be aggregated across populations to search for patterns in an unprecedented level of detail.
How AI Researchers are Putting Data to Work
Now researchers and AI companies in healthcare are training models to predict who will get sick before their symptoms worsen. That allows population interventions to be even more precise without compromising the grander scale over which they function. An example of this is the work, MarkiTech, a leading services, platform and product company focused on AI in healthcare,  has done in creating applications like diabetespredict.app (which helps predict the complications for diabetes patients based on a set of over 250K diabetes patients), and carefall.app (that predicts the probability of a fall in a senior before it happens). Carefall.app is available on apple and google stores. 
In one instance, these models are being used to predict which diabetes patients will develop certain complications. Individuals identified through precision medicine could then qualify for population health programs.
Conclusion
Both population health and precision medicine are still relatively new concepts. But, with huge investments into AI products and services in health and tech, expect to see revolutionary changes in the years to come.
With more data at physicians' fingertips, that can only mean one thing: better health outcomes for everyone.
MarkiTech.AI can Help you in Your Health Digital Transformation Journey Today!
At MarkiTech.AI – we are your ideal partners to discuss your digital transformation and analytics challenges within healthcare.
MarkiTech.AI, a top AI development company in healthcare based in North America, is on a mission to innovate healthcare one project at a time for payers, providers, and end-users with a focus on community care. We have completed 40+ HIPAA-compliant projects in healthcare and we are experts in AI / Machine learning with 35+ engineers, data scientists & health care experts.
In addition, we provide IT staff augmentation solutions specializing in Data Engineer, Data Science, Ruby on Rails, Ember, React Native, NET, JavaScript, Python, iOS and Android.
We would like to offer FREE digital transformational consultancy via our Fractional CTO team of highly experienced individuals and understand your unique technology challenges and see if there is a potential fit.
Book a free consultation today to see how can help digitally transform your business at https://markitech.ca/our-services/
CREDITS: NHS, NHSX, Jama, Sage Journals, Forbes, Pub Med
#populationhealth, #health, #precisionmedicine, #AIblogs, #aiinhealthcare, #healthcare