Social Media -a term that is thrown around more frequently than any other. You get tips on "How to improve your social media standing?" to "How to grow your social media following?" and so on and so forth. Every company, every business be it a SMB or an Enterprise are jumping onto the Social Media bandwagon.
And why not?
According to Pew Internet Project's Research, "As of January 2014, 74% of online adults use social networking sites.
As of September 2014:
Given these overwhelming statistics, "Social Media Marketing" or "Digital Marketing" is being allotted a major portion of a company's marketing budget. According to the CMO Council, "28% of marketers have reduced their advertising budget to fund more digital marketing. February 2015".
Why this sudden interest in Social Media Marketing?
Does it really payback?
Can we calculate the ROI for Social Media?
Is it even possible to quantify it?
The answer to all the above questions is a huge, unequivocal "YES"!
Here is a simple six step formula to calculate Social Media ROI:
Step 1:
Set your Conversion Goals:
Conversion goals involve defining a measurable action that a user takes in response to your campaign:
For example:
"Email marketing subscriptions
Contact form completions
Clicks to social accounts (like Facebook, Twitter, Google+, and Pinterest)
Engagement goals like time on site or pages per visit
Events like watching product videos
Downloads like product specs or product guides
Clicks to trigger live chat with your customer service reps"
Step 2:
Track Conversions
Use the various tools available to track the success of the goals defined above. There are a variety of tools – both free and paid for – that can be used to measure the success of your social media goals. HootSuite, SocialMention, Sprout Social are just a few examples. (Stay tuned to this blog for a comparison of these tools).
Step 3:
Assign Monetary Value to Conversion
Use historical data or simple estimation to assign an approximate value to each conversion. For example, if your average customer value is $400 and you know that 1 in 20 people who visit your website become customers then the value of a website hit is $20.
Step 4:
Measure total value by channel
Different Social Media Channels generate a different type of response and traffic. (For more on this, read our previous blog post here).Calculate the monetary value by channel.
Step 5:
Determine Total Cost
Estimate the Total Cost of the Social Media campaign per channel.
Step 6:
Analyze Results and Improve
Once you have the costs and the benefits, calculating the ROI is simple math!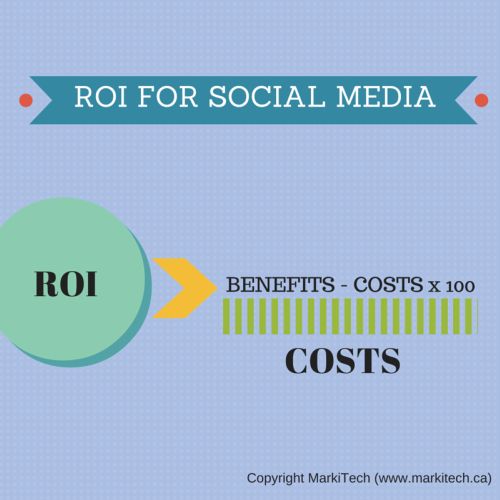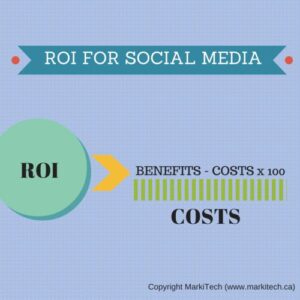 Conclusion:
Calculating the ROI for Social Media, will not only help in measuring the success of any Social Media campaign but can also help a company to re-adjust, re-focus and re-direct its digital marketing campaign platform wise.
Why don't you let our team of C-Level experts devise a customized social media plan and digital marketing strategy – especially for you and let us worry about achieving that ROI you have in your mind! Sign up now for our absolutely free 30-min consultation and let's get the ball rolling.
[cta]
Would love to hear your comments!
Written by,
Zunaira Omar
SEO and Technology Marketing Manager