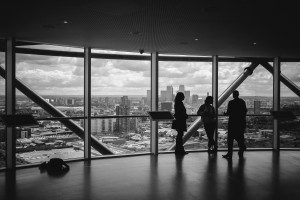 CIOs (or Chief Investment Officers) are typically pegged as the IT decision makers within a company. While they usually steer the direction of the IT department and perhaps sign the cheques, when all is said and done, it is usually IT-skilled employees who heavily influence purchasing decisions. CIOs are generally present in larger organizations, but there are three other types of businesses within the SMB field where CIOs are few and far between.
The Home Office: 1-10 employees
The Small Business: 11-250 employees
The Medium Sized Business: 251-500 employees
The common trend that IT vendors follow is overlooking these classes of companies and focusing solely on the Large (501-1000 employees) and Enterprise Businesses (1000+ employees). If you're able to get your foot in the door, it can be a big-win, but there are also plenty of opportunities within the SMB range that might not be as difficult to provide for. Not to mention, larger businesses will typically have larger-scale needs that require on-site contractors as opposed to third party vendors. According to Spiceworks, a community of over 2M IT professionals, there are "7M IT decision makers who are purchasing tech for SMB-size organizations. This means that IT decision makers manage purchasing for over 197M employees inside of 18M companies worldwide. That's an estimated $800 billion yearly spent on IT and some serious buying clout."
So don't just focus on the big fish, appreciate the little guy. Pay attention to SMB IT staffers' wants and needs and chances are you'll be on the good side of the gatekeepers. Participate regularly in IT communities and make an effort to attend tech conferences and meetups. This is where you can spark a connection with the key players and work your way up their IT chain. The fact is that regardless of their budget, CIOs and IT pros alike will be looking for ways reach their goals faster through automation and technology. More and more decision makers are approaching IT challenges as business challenges. It's up to you to showcase how your services can add cost-saving or revenue-generating growth.
Here's a quick reference guide for targeting different IT needs for all sizes of business.
The Medium Sized Business

IT Director, VP of IT, CIO

Owner not typically IT savvy. Seeks help from family & friends.

Typically 1-5 IT pros on staff

Typically 3-10 IT pros on staff

Typically 5-20 IT pros on staff

More than 10 IT pros on staff.

Well known retailers (ex. Best Buy).

Vendors who they've built a strong relationship with (may manage their infrastructure entirely).

Vendors who they've built a strong relationship with (may manage their infrastructure entirely).

VARs used almost exclusively.

With larger-scale needs, on-site contractors employed to set up or deploy systems.

VARs used almost exclusively. Often hard-to-reach,

to IT pro staff/team leaders.