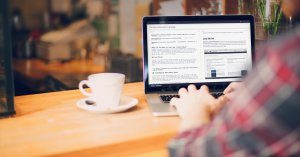 You are finally done with writing your blog post. It has been proof read and is good to go. The next thing you want to do is to publish it immediately.
Behold! Do not make the mistake of posting your blog right away. Sit back and consider ways to ensure that your blog gets the most viewership. Here is a checklist you might want to go through to see if you are on the right track:
1. Blog Title:
Make sure that your blog title captures the attention of your audience. It should be catchy and short, ideally 5-7 words. I would normally suggest doing a keyword search to ensure that your blog topic is something that the audience is interested in. Keyword tools like this can be very useful in identifying what your audience is looking for.
2. Keywords, categories, tags and meta description:
These are important in classifying your blog post to get the right target audience.
Make sure that you have a single keyword. This would be what your entire blog is focused around. For example the keyword for this blog is "Blogging"
A common mistake made by bloggers is to mix categories and tags. They are not the same. Ideally you should be selecting 1-2 categories per post. Categories define how your blog fits into a general web search. On the other hand, tags can be more general; You can add up to 10 tags in your blog that might highlight what your blog post all covers. The meta description usually condense what your blog is about. Make sure your meta description contains your keyword.
3. Timing your post:
People blog for several reasons. Some want an increased viewership, other want to get customer leads. Select the timing of your post with this end goal in mind. Ideally high activity hours from anytime between 7 am to 4 pm from Monday to Thursday are proven to have more views than any other time of the week. If you want to have more comments, likes and shares, you should consider posting your blog on a Saturday as it has the highest engagement rate than any other day of the week. For people who want the highest inbound leads, consider publishing your blog on Monday and Thursday morning.
4. Preview:
Just before you hit publish, make sure you preview your blog post. Previewing will help you ensure that your pictures are aligned in the right way, and in case you have inserted a link, it is working fine. Citations are another part of your blog which you should never forget to add. It is a common practice to add citations/sources at the end of the blog.
4. Replugging your blog: If your blog does not receive the goal you set for it, you might consider replugging in. You have posted your blog once; understand what you blog post might have lacked. Improve on those items and post again. You might want to consider all the steps in this blog and follow them all before republishing.
Last but not the least, once your blog post is published, make sure you keep on checking our comments section. After all, you need to constantly engage your audience into conversations!
Source: http://www.technochilly.com/2014/06/50-popular-blogging-platforms-web/