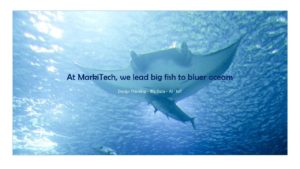 At MarkiTech, we have sharpened our laser focus on #AI, #BigData and #IoT as our key areas of differentiation. We deliver consulting, staff augmentation, training and develop products in this space with a design thinking, startup mindset and our "Agile Sprint" Design (Trade mark) process.
As part of that focus, we are collecting and analyzing more information than ever around #AI — and offering clients products that rely on artificial intelligence to predict user behavior, develop new solutions, and automate redundant processes. Recent examples of SEMA and ccRobot developed on AI platform. 
Within the growing field of artificial intelligence, enterprise AI has shown particular promise, emerging as one of the most well-funded categories. Startups in the space offer services ranging from automated data collection from unstructured sources to real-time data analysis. 
Visit us at www.markitech.ca and take our survey on how digitally transformed your company is and contact us for a FREE Consultation. We would love to hear from you.
Early-stage enterprise AI startups to watch
ELEMENT AI
Headquarters: Montreal, Canada
Disclosed Funding: $102M
Select Investors: Data Collective, Intel Capital, Microsoft Ventures, Tencent Holdings, 500 Startups
Element AI leverages artificial intelligence research to create bespoke business applications, helping to launch and incubate AI solutions in partnership with large corporations and research institutions. Its tailor-made application programming interfaces (APIs) deliver benefits to users immediately, without long integration phases. Element AI's executive team includes Dr. Yoshua Bengio, a pioneer in the field of deep learning.
UIPATH
Headquarters: New York, New York
Disclosed Funding: $30M
Select Investors: Accel Partners, Credo Ventures, Earlybird Venture Capital 
UiPath specializes in robotic process automation, leveraging computer vision to operate the user interface layer of software more efficiently and accurately than human users. 
Clients include big four accounting firms like Deloitte, EY, and PwC, which use UiPath to automate redundant processes internally and for clients. UiPath's services have also been used by manufacturers to automate inventory management and supplier communications. 
HYPER ANNA
Headquarters: Sydney, Australia
Disclosed Funding: $13.7
Select Investors: AirTree Ventures, Insurance Australia Group, Reinventure, Sequoia Capital China
Hyper Anna provides a virtual data scientist that leverages artificial intelligence to deliver on-demand insights to financial services companies. The startup's predictive tools have been used for business development, expense management, revenue forecasting, and supply chain management, among other applications.
As a winner of Westpac's Businesses of Tomorrow 2017, Hyper Anna looks to expand to Asia and the US in the near future. 
BONSAI
Headquarters: Berkeley, California
Disclosed Funding: $13.6M
Select Investors: Microsoft Ventures, New Enterprise Associates, Samsung NEXT, Siemens
Bonsai helps organizations build and deploy intelligent systems by improving the programming and management of AI models. Its technology has been used in industries including robotics, manufacturing, retail, logistics, and energy.
The company's latest feature, Gears, allows users to import external ML algorithms built with platforms like Google's TensorFlow into the Bonsai platform.
SAAGIE
Headquarters: Le Petit Quevilly, France
Disclosed Funding: $11.6M
Select Investors: BNP Paribas, CapHorn Invest
Saagie provides open-source data technologies to increase organizational efficiency. Saagie's smart data platform provides a variety of solutions, including compliance automation for KYC (know your customer) and data governance for GDPR (general data protection regulation). 
BIGSTREAM
Headquarters: Mountain View, California
Disclosed Funding: $5.5
Select Investors: Cota Capital, Intel Capital
Bigstream Solutions uses a combination of hardware and software techniques to accelerate data extraction, integration, and analysis. Intel, which backed a tranche of Series A funding to Bigstream in Q4'17, collaborates with the company on sales and marketing initiatives for the ad tech and fintech sectors.
STREETBEES
Headquarters: London, United Kingdom
Disclosed Funding: $5.1M
Select Investors: LocalGlobe, Octopus Ventures
Streetbees is real-time intelligence platform that collects data by crowdsourcing information through a network of gatherers. The company pays users to provide feedback, answer surveys, and upload visual content that is shared with industry professionals in real-time. Streetbees also uses artificial intelligence and mobile geolocation technology to verify the authenticity of each contribution.
PEAK
Headquarters: Manchester, United Kingdom
Disclosed Funding: $4.6M
Select Investors: MMC Ventures
Peak is a subscription-based data analytics platform that unifies, processes, models, and extracts insights from enterprise data. The data-analytics-as-a-service platform is primarily used by business development teams for customer segmentation, product demand forecasting, and qualifying sales leads. 
Visit us at www.markitech.ca and take our survey on how digitally transformed your company is and contact us for a FREE Consultation. We would love to hear from you.
#AI, #ArtificialIntelligence, #BigData #Startups